Have you got a conservatory that doesn't fill you with the joy and excitement or at least that instant sense of relaxation and calm it did when you first had it installed?
Has the novelty worn off and the whole room and area feels a bit of a let-down compared to the rest of your property? Or maybe it just feels like it has fallen way behind with the times. The way it was decorated and laid out when you first got it was in keeping with what was trendy and fashionable at the time, now it just feels dated.
You may wonder if there is anything you could really do to change the way you feel or the way it looks. Well, as you'll see from the following post, there are several different exciting and creative solutions to the problem of how to decorate a conservatory to bring it up to date, while making it an exciting and joyful place once again.
In the following post we will highlight 13 of our favourite ways to modernise that conservatory.
Add a Touch of the Exotic

Conservatory plants are a great way to bring new life and a modern touch to your lean-to. Think brightening up empty and darkened corners with tall and mighty plants. Don't be afraid to stretch as far as the ceiling. To give it a fully exotic and spicy look, source a fabric with an outlandish leafy motif for the table runner, blackout roller blinds for the conservatory and cushion covers (and a lot of lemon yellow here and there).

Bestseller No. 1

Indoor 40-50cm Potted | Monstera...

LUSH GREEN FOLIAGE – The colour on the plant's foliage is a lush green, akin to that...
FITS WELL IN MANY INDOOR ENVIRONMENTS – The Swiss Cheese Plant loves humid environments...
EASY PLANT TO CARE FOR – Caring for the plant is simple. The low maintenance houseplant...
SOUTH AMERICAN BACKGROUND – Originating from South America, this plant is used to warm...
Images are for illustrative purposes only. Plant supplied in a growers pot, decorative pot...

Go for that Tropicana Look

Modernise your classic look and feel conservatory with the addition of bold prints of orchids in different colours. When working in conjunction with the rattan conservatory furniture you may already have, your extension will look comfortable and relaxed, while still have an exciting tropical atmosphere.

Transform Your Dining Table Into a Focal Point

Source: http://antihero.me/part/

Got a nice big dining table in your conservatory? Why not use that as a focal point for the whole room with a colourful, and seasonal table setting. Use tableware and tablecloths appropriate to whether it's spring, summer, autumn or winter.

Although you may have other stunning items and pieces of furniture in your conservatory, having one main focal point draws your guests/and your own attention towards it. You can help emphasise it more by keeping everything else more subtle or matching just one singular colour.

But why stay inside? An outdoor bar table and chairs may be a better solution if you're looking to host garden parties during the summer months or don't want to be burdened with the expense that most dining furniture often comes with.

Make a Statement of Intent and Style with Conservatory Furniture

Source: https://www.hayneedle.com/tips-and-ideas/hanging-egg-chair-trend

You can bring a touch of nostalgia, like pod conservatory chairs or something similar and still have a modern-looking conservatory. Especially if you have an all-white décor, a splash of colour such as red can really make the retro feel modern and on-trend.

Bring Conservatory Windows to Life

If your conservatory benefits from large and expansive windows that stretch from the floor up to the ceiling, the space may need a little spark of life and soft furnishings can help achieve this goal. Furthermore, the use of blinds with a patterned design and slick and sexy covers on scatter cushions in the same matching colours help to add to the affect.


Mix the Indoors with the Outdoors

Source: http://www.robertallendesign.com/collections-botanical-color-fabric

One of the reasons why many people want a conservatory in the first place, as well as adding usable living space with a covering, is to make a bridge between the indoor and outdoor world. You can blur the lines between the interior and exterior even more by using botanical-inspired prints with lots of green leaves and a variety of white shades. This will give it a very natural and light look.

Make it Homely

Conversely, you could solidify its place as a part of your home by transforming it into a more obvious and truthful extension of your house. But how to furnish a conservatory with the right pieces can leave people stuck, wondering just what constitutes 'homeliness'.

You can do this by using warm and inviting floral wallpaper and fabrics. Large and luxurious rattan conservatory furniture is another great way to achieve this and make it a real part of the home, and not just the add-on at the back or side.

Think French Country

Have you always had a love affair with France? Wondering how to decorate a conservatory room with a touch of quaint Paris? You can add some pleasant French touches here and there such as street signs in French, as well as painting any brick walls that make up a part of your conservatory in clean, crisp and brilliant white gloss.

Add bright and smart white furniture with gentle accents of blue and perhaps a floral centrepiece to really make it feel European.

Bestseller No. 1

Cherry Tree Furniture Distressed White...

This lovely sideboard/drawer chest is crafted from solid Paulownia wood and displays a...
Features 2 small drawers and 1 cupboard for storage
Size: W 75 cm (29.5 in) x D 35 cm (13.8 in) X H 60 cm (23.6 in).
Delivered in one piece. NO ASSEMBLY NEEDED.
This item cannot be shipped to: Northern Ireland, Isle of Man, Isle of Wight, Scottish...

Bestseller No. 2

KidKraft 524 Wooden Double Chaise Lounge...

LOUNGE IN STYLE - The KidKraft Honey & Navy Chaise Lounge is stylish and will have your...
PERFECT FOR THE OUTDOORS - The 3-sided canopy and mesh windows will keep your child shaded...
ASSEMBLY INSTRUCTIONS INCLUDED- Packaged with detailed, step-by-step assembly...
AN OUTDOOR CLASSIC - Gear up for the outdoor season. A pair of cupholders are perfect for...
BUILT TO LAST - Built with weather elements in mind, our sturdy wood construction is made...

Bestseller No. 3

Rebecca Mobili Cabinet Furniture...

DETAILS: Dimensions: H 68 cm x W 56 cm x D 27 cm - Dimensions drawers (6): H 18 cm x W 22...
FURNISHING CHEST OF DRAWERS: The Rebecca drawer unit is perfect both as a chest of drawers...
VINTAGE AND URBAN STYLE: The sober and elegant line of this cabinet means that it will be...
STYLISH DRAWERS : Drawers are the real strength of this chest of drawers. Capacious and...
READY ASSEMBLED: The Rebecca drawer unit is shipped already assembled and ready for use

Transform it into a Dream Retreat for Chilling Out

Source: https://www.joybird.com/daybeds/eliot-daybed/

One of the easiest ways to modernise your conservatory is to give it a more specific and defined function. For example, you may be thinking of options on how to make a conservatory cosy, or how to dress a conservatory with the right furniture and colour schemes.

By transforming it into the ultimate space for relaxation and chilling out. As well as providing plenty of comfortable seating solutions, decorate these with throws and cushions with meadow and wild field-inspired colours and patterns.

The inclusion even of a daybed-style seating solution, conservatory heaters and just lots of other elements that continue the theme of relaxation, restoration, re-energising and recharging will leave you, your family and any guests visiting you with no doubt about what the main use of this area of your home is reserved for.

Replace the Conservatory Doors

Source: https://www.planetsouthlakes.com/doors/patio-doors/

Okay, so compared to the others in our guide, replacing your conservatory doors may not be the most amazing and exciting options if you're trying to modernise this space.

You'd be quite amazed, though, at just how much a set of new doors can make to a conservatory. Remember, if you're intending on changing the colour scheme in the process, you need to find doors in a similar colour or tone that will work with and not against the main colours of your lean-to.

Some options for new conservatory doors include:
Folding, Bifold and Trifold doors
Sliding doors
French doors
Consider Converting your Conservatory into an Orangery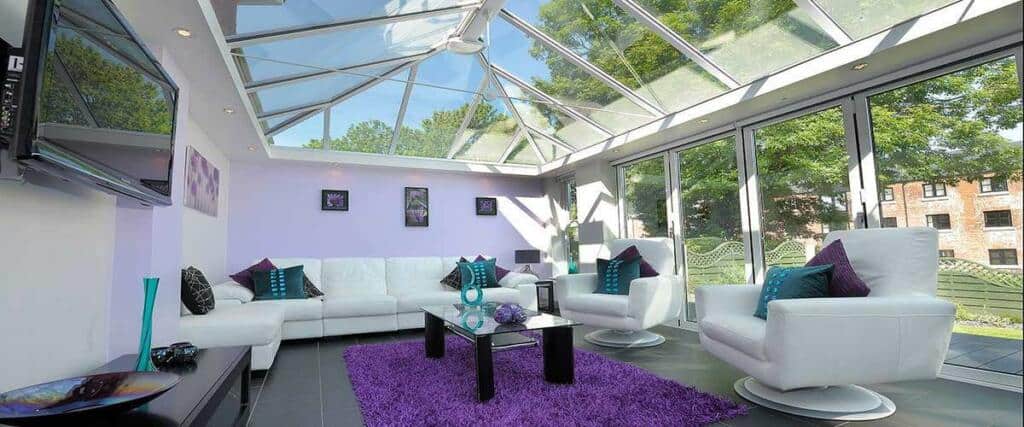 Increasing in popularity, orangeries are very trendy right now. Although there are many differences between the two types of structure, many homeowners like the privacy and luxury they get from a more orangery-inspired construction.
Replace the Polycarbonate Roof with a Glass One
This is one of the most popular forms of conservatory alteration that many homeowners think to do first. You can modernise your conservatory virtually overnight (or however long the work takes to be completed) just by switching out the polycarbonate roof it has (if it has one) for a glass one.
Polycarbonate, although very reliable, durable and yes, good looking is something that was more trendy back in the 1980s and 1990s. Conservatory roof replacements are easier than you might think.
The change came as the technology behind conservatory construction improved and you aren't just left with the option of having plastic roofs or no roofs. Polycarbonate may be less expensive, but it's also not nearly as effective as glass. Glass, especially double-glazed conservatory roofs, help to improve the use and investment of your conservatory in various ways including:
Reduced heat loss: Glass is thought to be a much better material to use for retaining heat in rooms and areas of your home like the conservatory. This could not only help make the place more comfortable but reduce your energy bills.
Self-Cleaning: (many modern glass options for conservatories are self-cleaning) These cutting-edge window and roof solutions utilise the power of the sun's rays to remove the debris and dust from glass. Obviously, you still need to maintain and look after your conservatory, but it is just a less involved and intensive process.
Alternatively, Give it a Real Roof

Alternatively to the above, though, you could choose instead to forgo the traditional, lightweight conservatory roofs and opt for a solid roof installation. This kind of solution not only adds a touch of sophistication and elegance but helps to bridge the gap between your lean-to and the main house more, as well as improving the heat retention and energy efficiency of the space. The perfect solution for how to make a conservatory into a room. 
Although it may feel like a challenge to take your nice but boring and outdated conservatory into the modern age, there are ways you can do it. In fact, as we've shown, at least 14 ways, not all of them as costly as the others.
We tried to provide a good mixed bag, so there are some there you can do in a day or two and others that require investment and hiring professional tradesmen and women.
While we're sure there are even more than just 13, if you've hit a creative block and just aren't sure what to do with the space, this guide should be more than enough help. We truly hope even if you only refer to one or two of our offerings, that you come up with your own clever and stylish ways how to furnish a small conservatory, or modernise a larger extension conservatory.