It can be such a nightmare, the frightening sight of condensation trickling down your conservatory windows.  You may be wondering why do my conservatory windows steam up and how to stop condensation in a conservatory?
Condensation occurs when warm, moist air meets cold surfaces, most commonly on windows and glass doors. When this happens, air can not retain moisture and leaves tiny droplets on the surface.
Typically, this is common in climates where the temperate dips into the low single figures.
Although initial condensation can't cause much damage, it can lead to damp and mould in your home and should be prevented where possible to stop further catastrophe.
Below are our 10 top tips on how to stop conservatory condensation and how to get your conservatory ready for the colder months ahead.
Ensure a well-ventilated conservatory

Ventilation is key to preventing condensation, maintaining a good balance in temperatures and airflow can completely eradicate your problem.
What you need is to prevent those windows and other surfaces from becoming cold. Keep your conservatory warm. If you do not have heating in the room, look into buying a conservatory heater.
We're a huge fan of the 11-fin Ansio Oil filled Radiator below. The heater comes with three different power settings as well a unique Eco Mode, helping to save a few quid on your energy bill. The power of the heater means it can heat a large conservatory within 10 minutes or so, eradicating any hint of condensation and maintain that desired temperature over a prolonged period of time.
ANSIO® Oil Filled Radiator Heater 11...
3 POWER MODE OPTIONS: Warm up your surroundings with ANSIO's Black 2300 W Oil Filled...
REMOTE CONTROL OPERATED: The Portable Electric Column heater can be operated with a Remote...
CHILD LOCK/ MEMORY/ TIMER and ECO FUNCTIONS: Special features of ANSIO Oil Radiator heater...
OVERHEAT PROTECTION AND ACCIDENTAL TIP-OVER PROTECTION FEATURES: When the temperature of...
Contact us in case of queries
Team this with a steady airflow from your windows, if you do not have them already, install window airlocks, this means you can leave the windows open and still have security.
It also means you are not losing all you heat with gaping windows and raising your energy bills.
This delicate balance should control the humidity and prevent the majority, if not all condensation.
Be consistent throughout your home

Just preventing condensation in one room doesn't mean you are entirely safe from those dreaded droplets.
For complete reassurance, you should try to reduce the problem throughout your home. Just as we have discussed, make sure the place is well ventilated.
Make sure bathroom windows are opened and fans turned on after a hot shower or bath. Open bedroom windows as soon as you wake up to let the room breath. Keep windows open when using hair dryers and other hot accessories.
If you are able, move the tumble dryer to the garage or another outbuilding, the heat and moisture from this can add to the damage significantly.
Each room can help care for the other and really reduce any damp issues in the property.
Hang your washing elsewhere

The conservatory always seems like a good place to hang washing, with the sun always beating down through all the windowpanes. But this is contributing to the issue immensely.
When clothes dry the moisture must go somewhere, right back into the air in your conservatory. The very place you are trying to prevent it.
If the weather allows, always hang your washing outside. If we are in one of our typical British downpours try the bathroom.
If you have a bathroom fan, this can create the perfect solution. Even if you have the smallest bathroom, you can purchase specially designed racks that fit nicely over the bath.
Try to time your washing so you can hang everything in the morning, and it can dry throughout the day.

What is a trickle vent? These are small openings or slots installed in the windows or doors which allow a small amount of ventilation into a room, even when the windows are closed.
These vents can be opened and closed as you wish so they act very much like a window lock but with even more security, even if you forget to close them when you go on holiday you still have security. You can check the price on Amazon for one here. We've added the spec for one of our favourites below:
Window 5X Trickle Slot Vent 407mm White...
Reduce Condensation, Damp & Mould By Providing Air Flow 5 Single White Trickle Vents
Each Easy To Fit Vent Include Inside Part, Outside Part, End Caps & Screws
Suitable for uPVC Double Glazed, Timber, Aluminium Windows & Doors Heavy Duty Can Be Used...
407mm Length Providing An Impressive 3728 mm2 Air Flow Tested In Accordance With BS EN...
External Dimension: 407 x 17 x 24mm Internal Dimension: 407 x 17 x 14mm
Some even come with settings so you can control exactly how much air comes through, good for those extra chilly winter days when you want a minimal draught but still maintain ventilation.

These are not the prettiest home accessory but can also make a real difference. You can purchase these for a relatively low price online.
They are essentially tubs with crystals similar silica gel but they are great at working their magic.
Put them on your windowsill and the crystals attract moisture and water is absorbed. They do need replacing as they eventually become filled with liquid.
You can see for yourself how well they work and how much moisture was in the room that you weren't even aware of.
Be careful to keep them out of reach of children and pets as the crystals are toxic.

We are guilty of being huge plant lovers. If we could, we would turn our conservatories into a jungle.
Sadly, plants contribute to condensation. They increase the humidity in a room and add to our problem.
Choosing the right plants for your conservatory is essential and remember to not go overboard with them, no matter how much you want to.
There are some plants can help with humidity, these include peace lilies, reed palm, English ivy and Boston ferns.

If you haven't had double glazing installed yet, this is the time to do so. These windows are amazing for keeping condensation at bay.
They trap more heat into your room so you can save money by not heating your home.
Double glazing can also reduce noise considerably and increase your property value.
Acquiring a dehumidifier has a wealth of benefits. Not only do they dwindle your chances of damp, but they help abolish allergens by making the environment inhospitable to them.
This can be good in the summer for hay fever sufferers and those with asthma.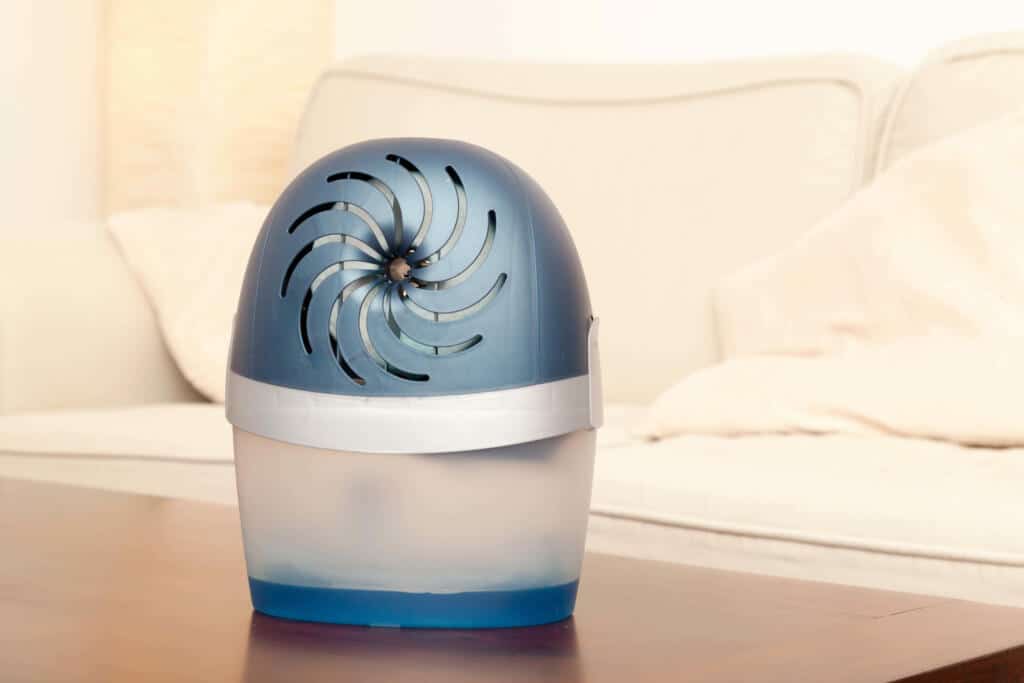 One of our favourite dehumidifier's is the Pro Breeze 1500ml dehumidifier. It suits any sized conservatory conservatory that can get get a little damp during the colder seasons.
It also doesn't use electric and is completely silent, which certainly helps.
We've tried out a few over the years, but this one always comes out on top. You can check it out on Amazon here
It is a common misconception that they are loud bulky machines, in reality they are rather quiet, and you will hardly notice their presence.
They also come in a range of styles and sizes, you can buy a small one for shelves or window sills for small problems
and larger ones for extreme cases. Some are as cheap as under £20 and prices stagger up to a few hundred depending on your need.

Even if your conservatory is fairly new, there could be a problem with the structure.
Check window seals and door frames for any leaking. If it is safe to do so, check the roof. It may be a problem with seals or brickwork that is causing a damp issue.
When in doubt, call a professional to come and assess the structure, many companies will offer a free assessment of any work that may need to be carried out.
Any advice should not be taken lightly as damp within the structure can cause terrible damage that could be expensive later on.
Treating problems like this early on will save a lot of cash and worry.
Have the right blinds and curtains

Keeping windows open is all well and good, but if airflow is being blocked by blinds or curtains then there really is no change.
If you have thick, heavy curtains, make sure they are not drawn throughout the day and leave a sizeable gap at night. It is worth checking the back of curtain for damp and mould so you can assess if the problem is damaging.
Ideally, if you are having a condensation issue, replace your curtains with blinds, they are easier to fit than you might think. Have a look at our guide on the best blackout blinds for your conservatory.
Blinds can help better with airflow, even when drawn there are gaps for air. For notoriously damp rooms, these can be left half-drawn and still offer privacy and shade.
Avoid wooden blinds, as great as they appear, they are mould's best friend and retain moisture easily. Positioned so close to windows can have some mouldy consequences.
When in doubt, stick to plastic or metal. If your moisture problem is extreme, be sure to wipe down and clean your blinds as often as possible to prevent damage to them.
Summary
It is not pleasant living with condensation, when purchasing a property, it is often hard to see if the building suffers from it. Sometimes we aren't aware of it until the seasons change and we can't always afford to replace windows or walls.
Hopefully, this list has provided a solution for varying budgets and sizes of damp. If the problem is becoming extreme, remove any furniture and furnishings away from walls and windows to keep them safe from mould while the problem is being addressed,
Don't despair, it is an obstacle we all face at some point in our lives!